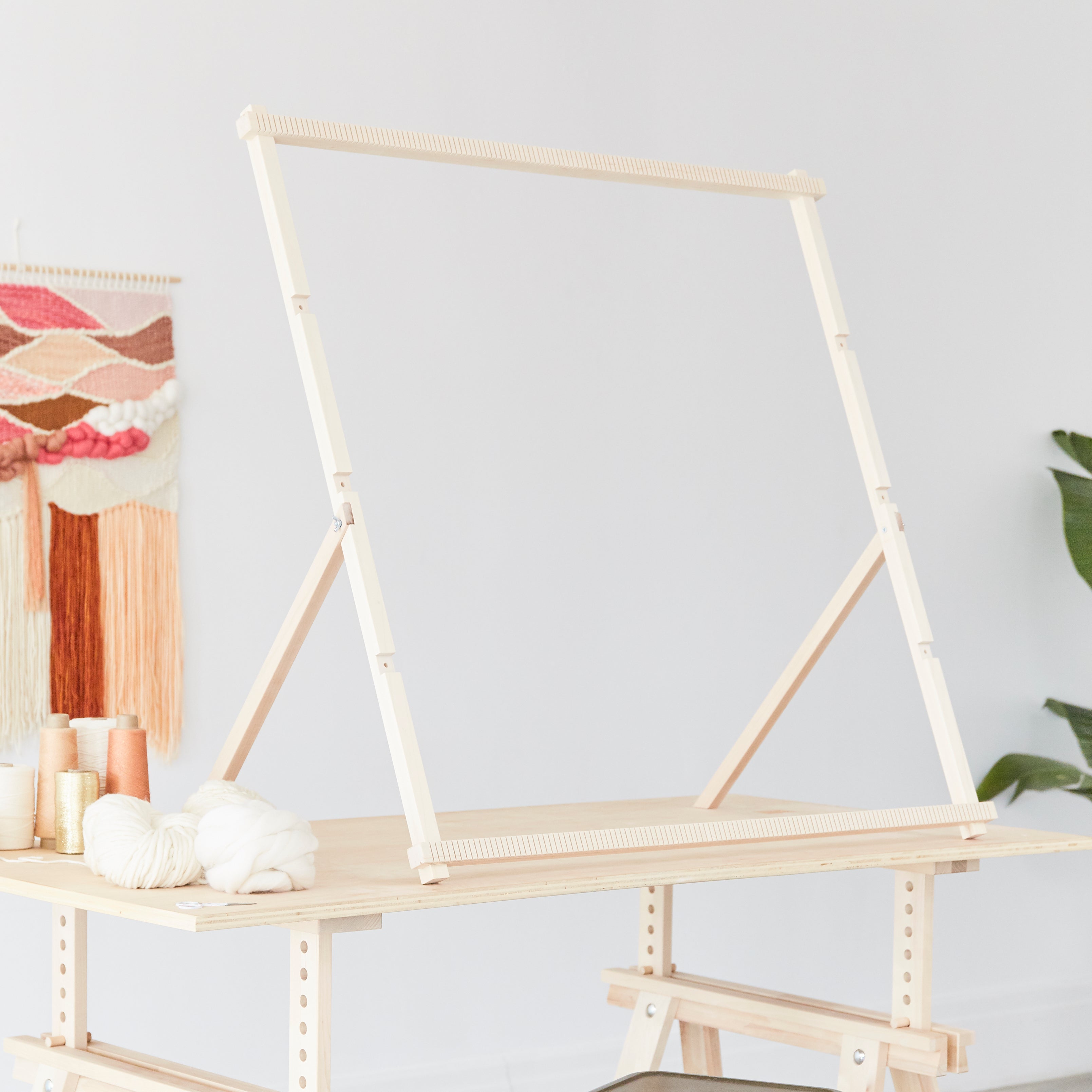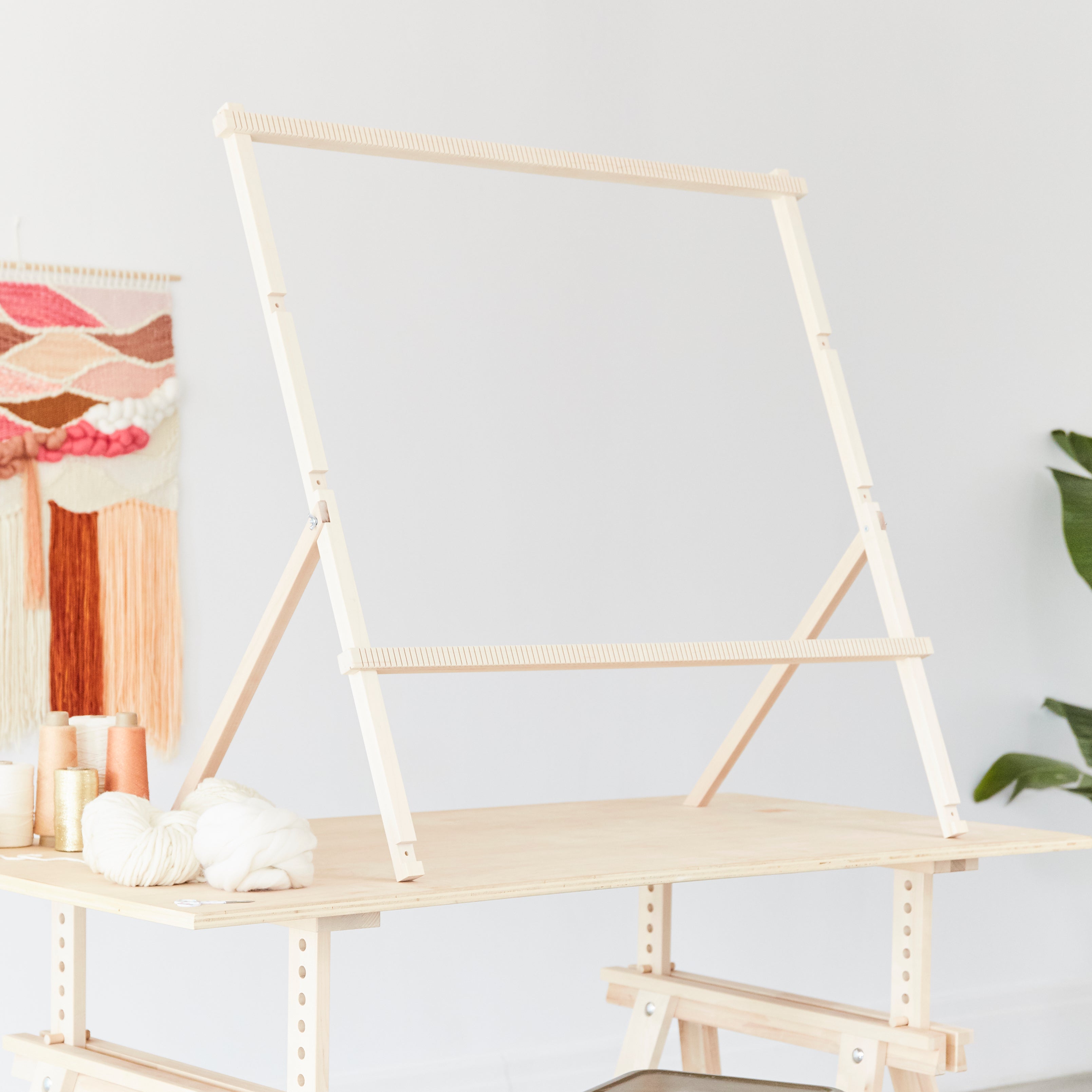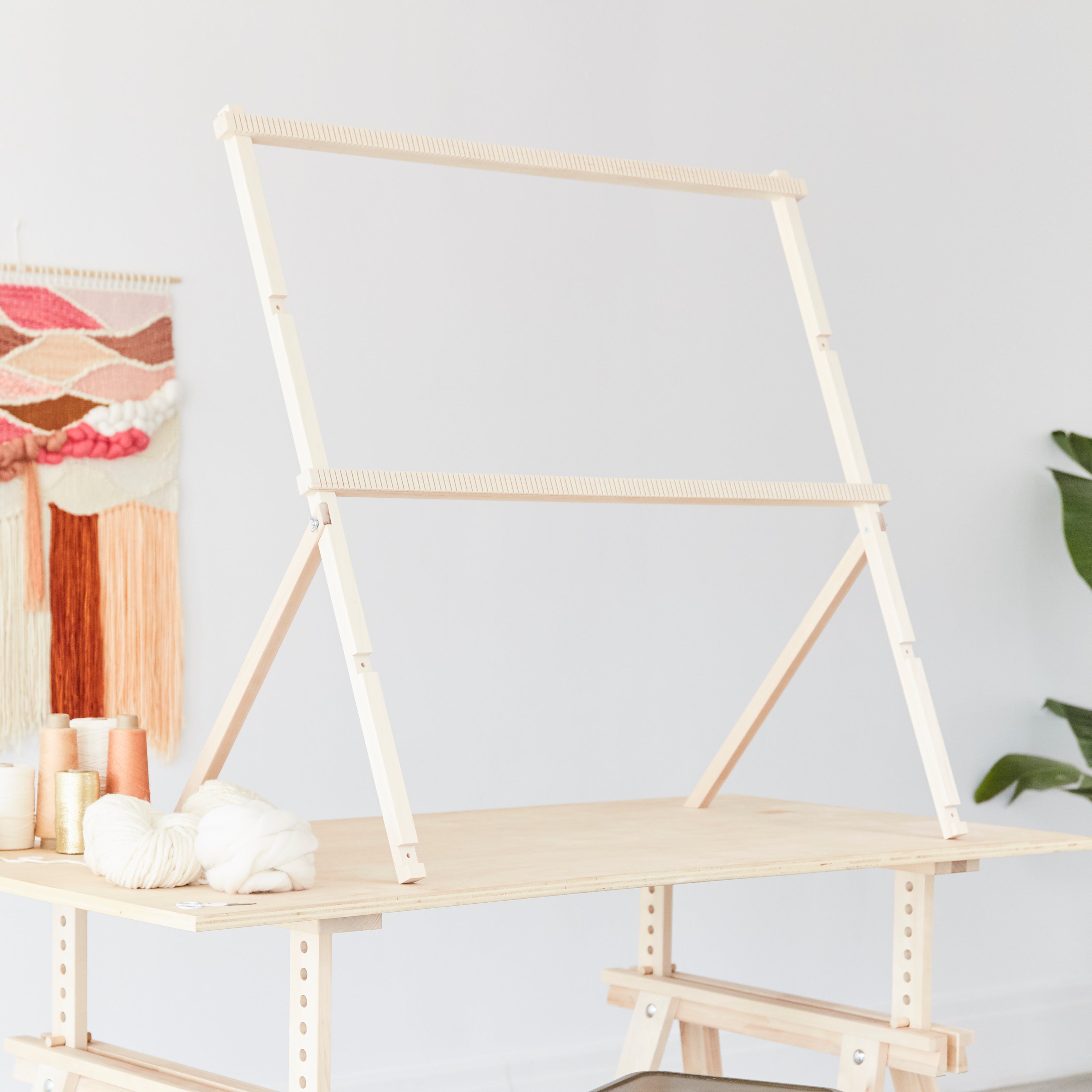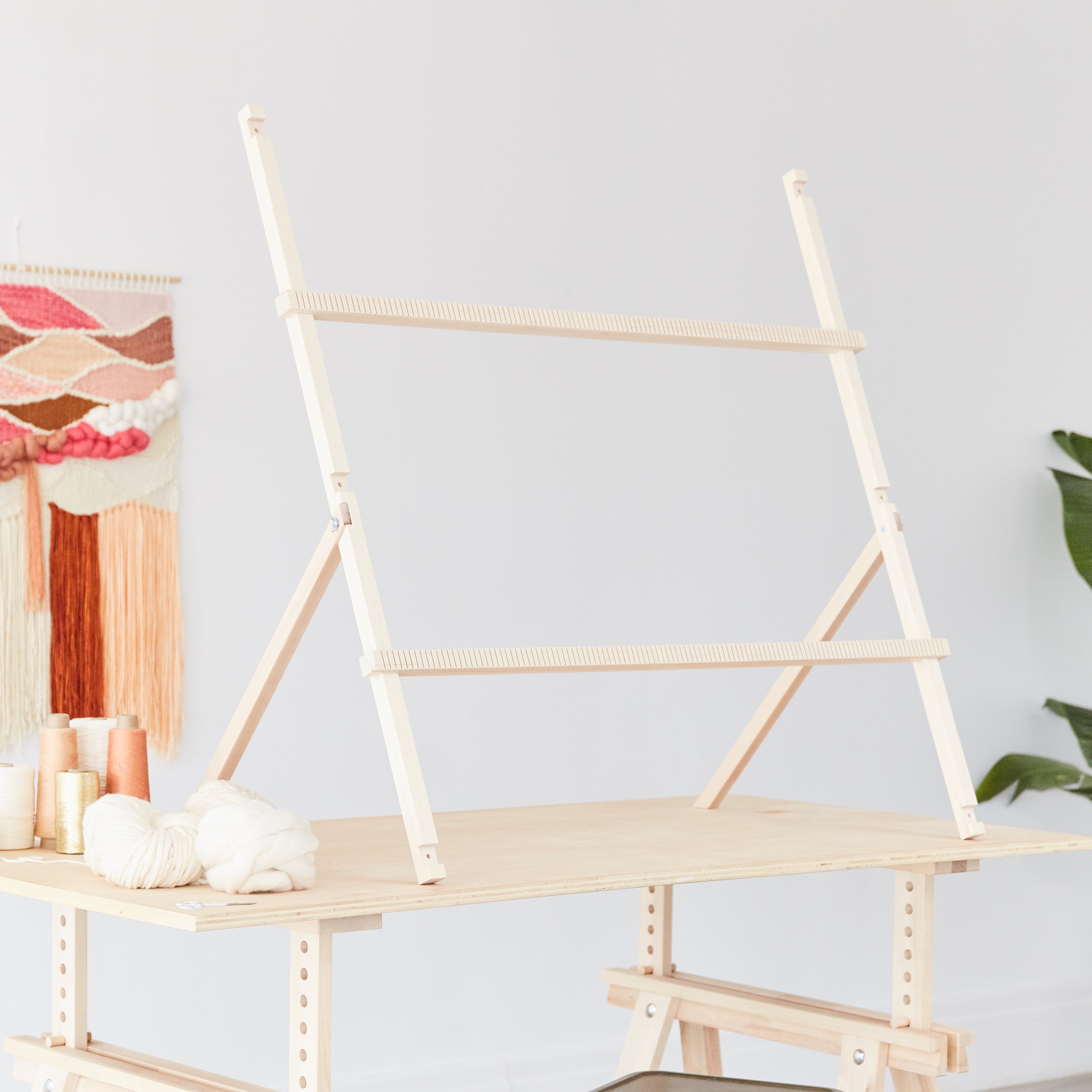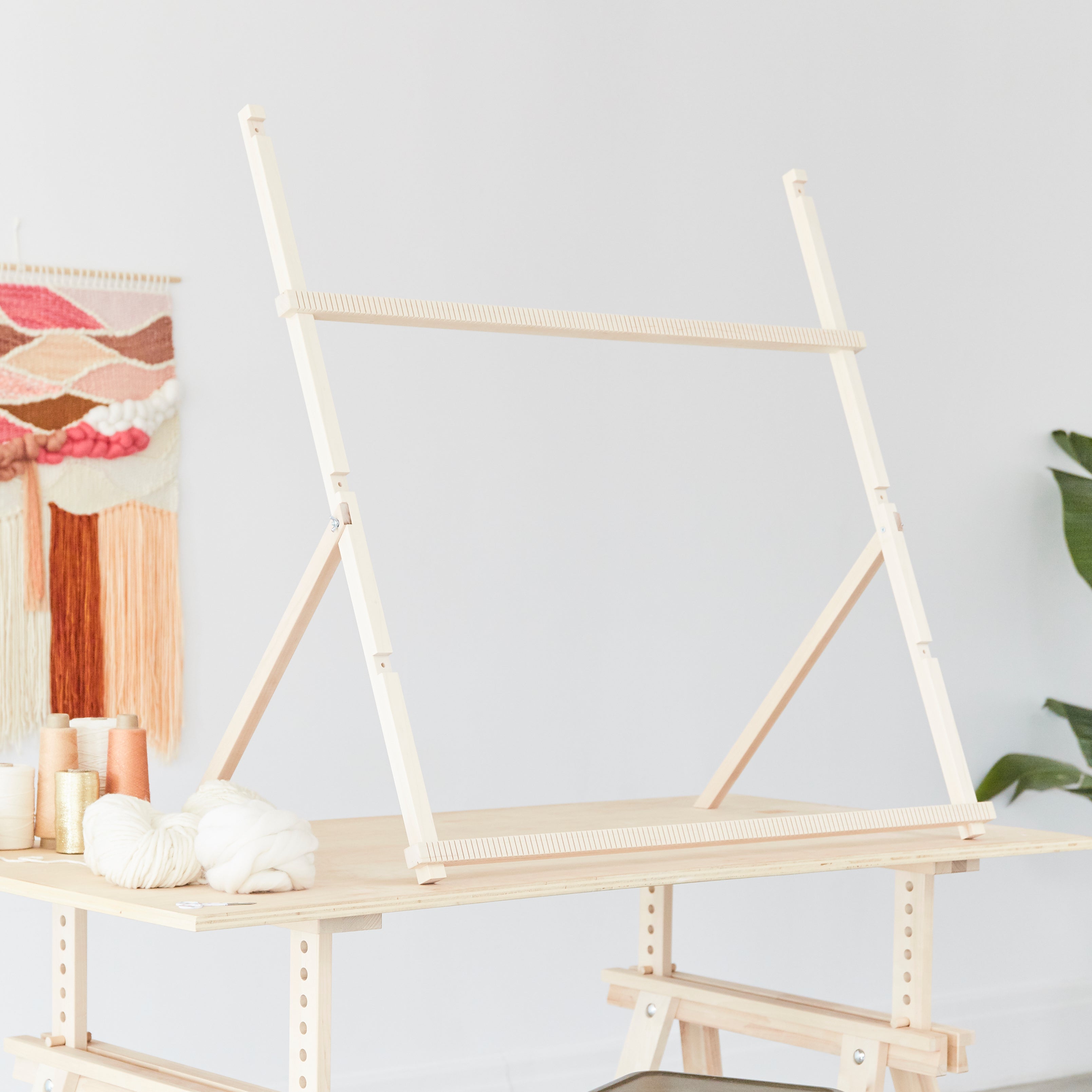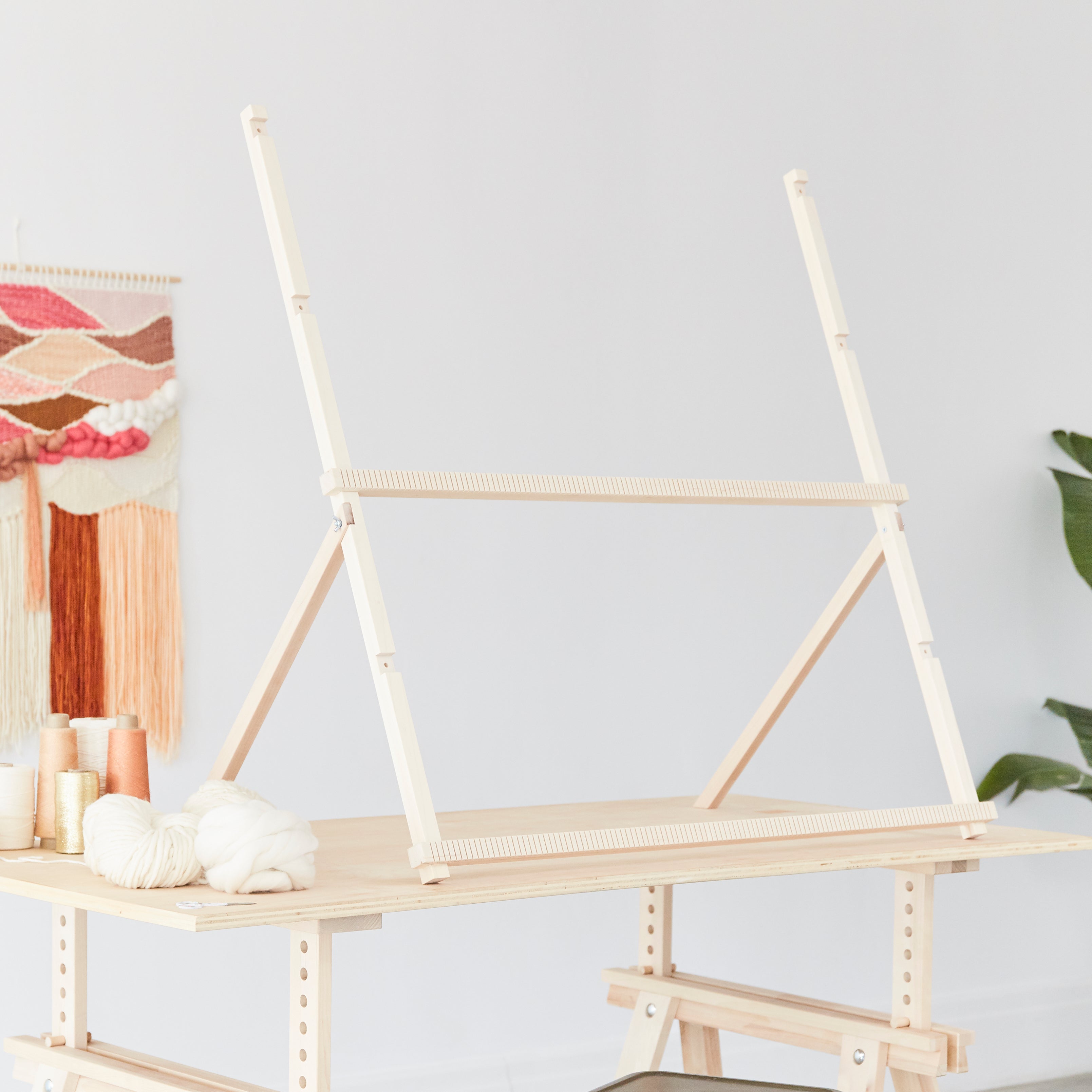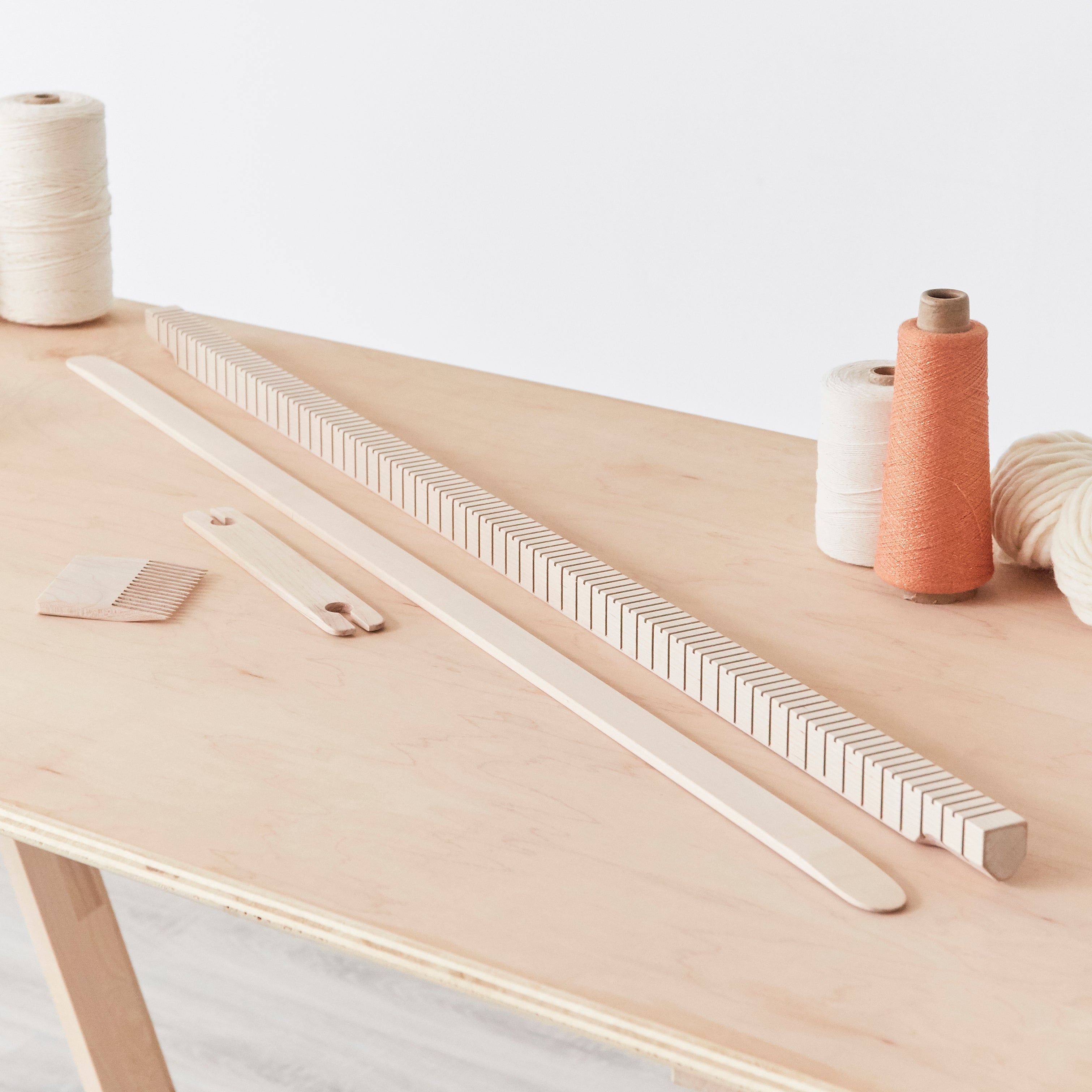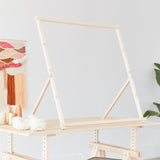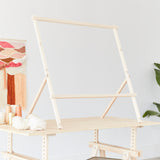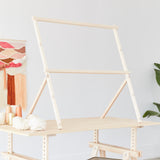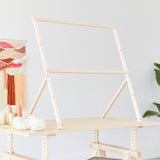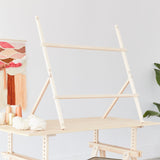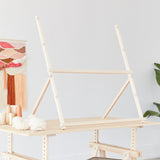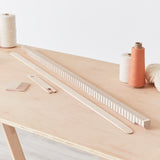 Byron: 40" Adjustable Weaving Loom 
---
Byron Bay is a magical boho beach town.  Her charm is infectious and when she casts her magic spell you're sure to fall forever over heels. So too will the art you create on this expertly crafted XL loom.  Byron was built to make a statement. You want to create a stunner that is the focal point of the room? This loom's for you. *Made for the serious weaver (or just one who likes a challenge!)​
Byron has 5 adjustment notches and can be used right side up or upside down. This gives you 6 weaving options in both directions (12 total).  She can be assembled quickly which allows for easy storage and travel. Each notch has a smooth edge and groove for simple and secure warping.  
All our looms & tools are designed by me and individually handcrafted from natural maple by my dad Paul. The removable legs raise the frame to encourage upright posture (and save your precious neck!) Simply remove them if you prefer to work on a flat surface. Bonus: legs can also be attached backwards to help weave in all those ends!  
The total loom size is 40" x 40". 
Weaving space is 40"w x 35.5"h. (101cm x 101cm)
*Due to their handcrafted nature, the unique maple grain varies from piece to piece.  Note: does not include scissors or warp thread☺
The loom is available as a single purchase or bundled with any of our weaving tools: the shuttle, shed stick, comb & heddle.
Tool Add Ons:
Comb: 8cm x 8cm
Shed Stick: 40"
Shuttle: 18"
Heddle: 40"
Looking for something even larger? Check out our new monstrous 6 foot loom! Take me there.
To purchase warp thread to go with your project click here.
New to weaving? Check out my Beginner Weaving E-Class to learn everything you need to make your first wall hanging. Check it out.
Still not sure what to purchase? Check our my blog to learn more on how to choose the right loom and tools. Blog
Item is in stock
Hurry! Low inventory
Item is out of stock
Item is unavailable
Byron: 40" Adjustable Weaving Loom 
Shipping

Shipping Times

*Note On Current Shipping During Pandemic*

All postal services are working hard to safely pick up and deliver parcels, although durning these unprecedented times, DELIVERY TIMES ARE NOT GUARANTEED and deliveries are taking longer at major distribution centres. 

Shipping arrival times, after your package has been shipped.
Canada & USA: 1-2 Weeks
International: 4-12 Weeks (option for faster delivery at an additional fee).  

Shipping fees are non refundable.

Customs

When you order merchandise from another country, you may be required to pay customs to bring that item into the country, it is your country's sales tax. We cannot declare your item as a gift, it is illegal. International orders may be subject to duties and/or taxes, they are the responsibility of the customer upon delivery.

Responsibility

As we are not employed by any postal service, we cannot guarantee these delivery times. If, for any reason there is a delay or shipping issue, we will do our best to help rectify it, but we are not responsible for the item once it has been shipped. 

Please make sure that your shipping address is correct and include your phone number as we need it to ship internationally. Items with an incorrect address will be shipped back to us at a cost and we really want you to receive your awesome package! We are not responsible for delivery errors due to incorrect shipping address.